A to Z About Bounce Rate and How to Reduce It On Your E-Commerce Website (Part I)
Your business goes online. You have a stunning e-commerce website. Your products are on the shelf ready to sell. Then you have guests. They come and then they leave. Some come back. Some don't. Now you have bounce rate.
Well, don't be sad yet. Bounce rate is inevitable for any online website out there. What really matters is what we can do to minimize the bounce rate and keep your precious visitors from going away. In this article, you'll find a huge bucket of knowledge about bounce rate – what it is, why it happens and how to reduce bounce rate on your website.
Let's jump right in!
What is bounce rate?
Bounce rate is the percentage of visitors who come to your website and leave without viewing any other pages on your website.
Where can you find this rate?
The simplest way is looking into your Google Analytics. If you're average bounce rate, for example, is 55.56%, this means that 55.56% of the people who come to your website leave after only viewing the page they entered on, whether it was your homepage or an internal page.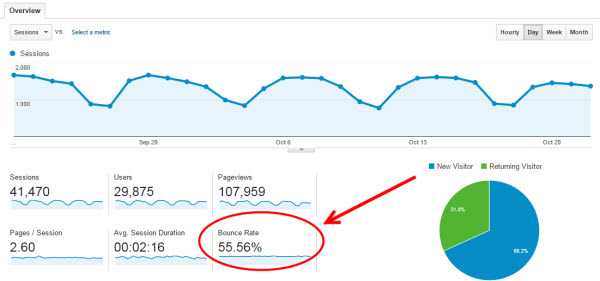 Now, what kind of activities can be counted as a bounce rate attributes?
Bounce rate happens when your site visitors:
Land on a page of your website then click Back button on their browser
Land on a page of your website then type a different website URL
Land on a page of your website then click X to close their browser window or tab
Land on a page of your website then click on a link placed within that page (that's why you need to redirect them to the new URL in new tab, not directly on the current tab – let's talk about this later)
Land on a page of your website then encounter a session time out
What make visitors leave your website?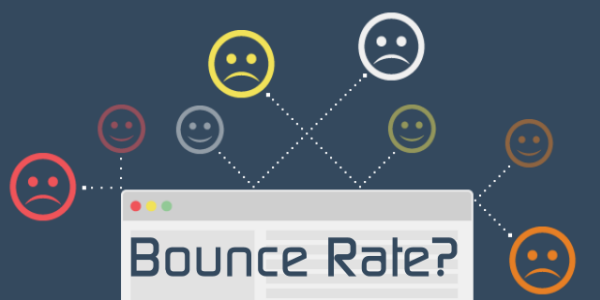 Internal Factors
Website Design and Usability
If your web design is cluttered, have some colors that really hurt the eyes, full of jumping flash animations or has some other design flaw that makes your visitors feel uncomfortable, you can be sure that the page would experience a high bounce rate.
Website Navigation
Visiting a website and seeing that it's so unclear what to do next will also whisper a "Go away" in your site visitor's ears. Website with an unorganized menu or no call to action at all has no respect for user experience.
Website Content
If your content does not add value to visitors and is not good enough to carry your visitors from one page to the other, after reading the first page your user would think "what next?" This is the point they bounce off your site. Moreover, if your website include too many external links (links that lead to other websites), people will click them and leave your page.
Technical Issues
There can be a wide range of factors under this but the one would be emphasized here is slow load speed. Digitalized human nowadays prefer fast things and usually expect a website to load within a few seconds. If it takes them longer than that, don't ask why they don't wanna stay.
External Factors
Irrelevant Results from Search Engines
Sometimes, there are some unrelated keywords that are driving traffic from search result page to your site and make you get a few extra visitors but they will definitely be bouncing off.
Low quality backlinks
A very rare situation, but might happen. If an external site links to your site using an anchor text that's not related to your website, this link would drive traffic that come to your website with some expectations but would find different content – Result: bounce off.
To sum it up
Well, we've just walked through a half of what bounce rate is all about. It's important to understand bounce rate as well as the main causes behind it that cost you potential customers. Next time, let's dig into some helpful tips to reduce bounce rate and increase conversions for your e-commerce website.
Do you have any question? Feel free to comment below!
Related Article: How Live Chat Helps Business Reduce Bounce Rate
Vivian loves being a nerd, a bookworm and a mangaholic fan. She also loves writing and sharing helpful stuffs for other geeky heads. Feel free to buzz and say Hi! to Vivian anytime