New Languages On Subiz Dashboard and Chat Widget
Subiz has taken a further step to provide you the best experience with live chat. Today, we are pleased to announce that new languages have been featured on both Subiz Dashboard and chat widget.
New languages for Dashboard
From now on, your workplace, Subiz Dashboard, is enabled to display in Portuguese, Brazilian, Thai and Indonesian. With this significant innovation, we hope that our users from Portugal, Brazil, Thailand and Indonesia will be able to understand and perform the entire powerful features more effectively.
It's very simple to change language for Dashboard:
Login Subiz Dashboard >> Go to tab Agent >> Click on Edit >> Choose your preferred language in Dashboard language >> Save change.
After your account is automatically reconnected, you will see all texts on Dashboard display in your chosen language
Change widget language to show your personalized service
When your business goes global, visitors may come to your site from any place in the world. Nothing can prevent you from supporting your global visitors now! Subiz will help you to give your customers a warm welcome by a greeting in their language. From today, the chat widget can be displayed in Persian, Chinese, Indonesian, Philipino, and Thai.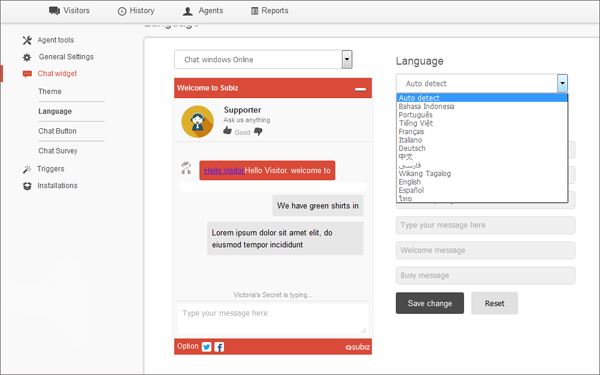 It is also easy to customize language for widget: Simply login Dashboard >> Click on Setting >> Chat widget >> Language.
While Subiz supports several languages, by default, it automatically detects source of visitors and displays suitable language. If your visitors are from various country, you can choose 'Auto detect' option. For instance, when a visitor from Brazil comes to your site, the chat widget will automatically display in Portuguese. On the other hands, if visitors come from a certain country, you should choose the appropriate language.
If you want to help us out, or you simply want to have Subiz in your language, don't hesitate to let us know. We understand that any change, whether it is huge or just minor, always give you a certain value. That is the reason why we keep constantly developing in order to offer the most convenient and efficient solution to our customers.
Subiz is a cloud-based service which lets you take the initiative to chat and interact with every visitor on your website, meanwhile, answer the questions, interact with visitors and solve problems quickly.